Evans Motor Court
Sumter, SC
Percy Evans established Evans Motor Court in Sumter, SC during the 1940's. P. C. Evans, Jr. returned from World
War II and was asked by his father to manage it, which he did for a period of time. He then made the decision to return
to Clemson University to complete his degree in Agricultural Education. Shortly after he left the motor court was sold
to the F. G. Onley family, who ran it until it closed.
At the time when the motor court was in operation many motels and hotels had postcards for guests to use and to serve
as advertisements--Evans Motor Court was no exception. This one was done when the Onleys were the owners--
P. C. Evans, Jr. said there was one available when Mr. Percy owned it too (I'll keep looking for one).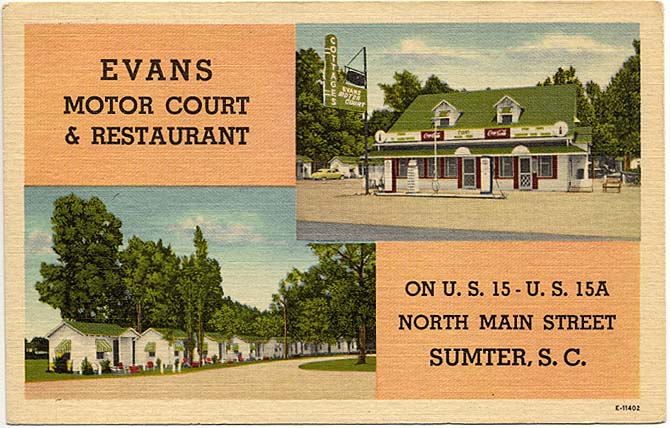 Click on any image below to see a larger view.
Full-size views of the back and front of the postcard. Click on
either image to see a full size card.

Another edition of the Evans Motor Court postcard. Click on
either image to see the card full size

On the first row below are images of the inside and outside of the diner. P. C. Evans, Jr. claims he learned his short-order cooking skills at the restaurant. He also constructed, wired, and plumbed most of the guest cabins shown on the second and third rows.