Sugarloaf Mountain Camp
August 27-29, 2004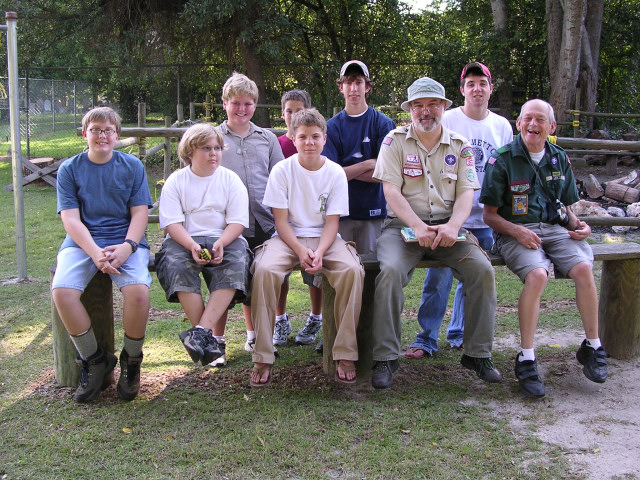 Click on a thumbnail to see a full-size image.
Want a high resolution copy? E-mail me at: lattoniken@adelphia.net
Man Hunt on Sugarloaf Mountain under the moonlight--what more could a scout ask for in a campout? How about a little hurricane weather on Sunday morning?

Practicing the axe throw, relaxing around camp, and wading in the Sugarloaf Mountain Lake to cool-off.

Leaders Lead
| | | | | |
| --- | --- | --- | --- | --- |
| | | Mr. Duffy knows how to relax in camp! | | |
| | | | | |
| | | Mr. Ingram can always find time for a good book--especially one on his new GPS/walkie-talkies. Hope he got rid of his chiggers! | | |
| | | | | |
| | | Mr. Nick Newton, Venture Crew Assistant Scoutmaster, (left) and Mr. Craig McGilvray, Assistant Scoutmaster, (right) attended their first campout with the troop. | | |

Sugarloaf Scenes
From left to right: A large piece of hematite at the base of Sugarloaf. Hematite is sand glued-together with iron. Lichens (an alga and a fungus growing together) growing on the face of the rock. The famous potjie pot--known for great beef stews. The sky on Saturday from atop the mountain.....things changed dramatically Sunday morning with the advance of a hurricane. View from the top of Sugarloaf--the picture does not do it justice!
| | |
| --- | --- |
| | Want to see a historical picture of Sugarloaf? This photo is from "Images of America, Chesterfield County" |